Tree Removal
When tree removal is the best option, let Aerial Bucket Services take your trees down safely.
Tree Removal
When a tree goes into decline, it can become a hazardous situation rather quickly. Trees that are in close proximity to people and structures can pose a serious threat – especially in a wind storm.
Tree Pruning
Professional tree pruning and maintenance can help keep your trees looking healthy and vibrant.
Tree Pruning
We can help shape your trees, thin out branches, remove deadwood and trim for clearance above structures and driveways.
Stump Removal
We provide professional stump grinding & removal services to Northern Michigan
Stump Removal
There are many scenarios that can alter stump grinding. Fences, landscape, patios, stairs, structures, and slopes all need to be considered for the stump machine accessibility.
Storm Damage
Call us anytime at 231-929-3131 for 24 hour emergency tree service for storm damage.
Storm Damage
A tree fallen onto a house is a very common occurrence in a wind storm, especially in our Northern Michigan area. We will take care of your storm damaged trees.
Aerial Bucket Services is a fully insured local Traverse City Tree Service Company with over 35 years of experience.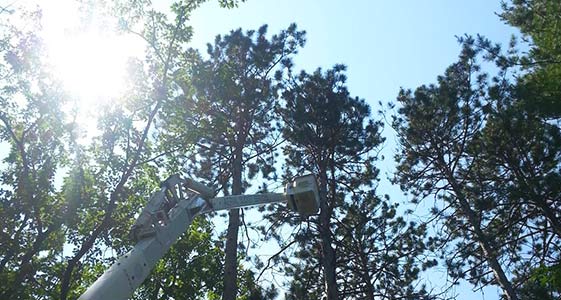 We are a Traverse City Tree Service Company with a rich history of quality work, great service, and reasonable prices.
We take pride in offering our customers "Quality Work, a Quick Response, at Reasonable Rates". Each employee at our company takes part in our goal to perform safe, efficient, and excellent tree service. We ensure the highest tree care standard for our customers, and promises to put your needs first. Your trees and property are in the hands of well trained and qualified tree care professionals. Our estimators have years of experience in the tree care business, and can evaluate your trees and make recommendations with confidence.
"I just wanted to let you know that your team did an excellent job removing my trees. Their clean-up of the sites was also exceptional. All too often people do a great job and never hear about it. Thank you all for a job well done. I will certainly recommend you to others."
Mary K.
"My compliments on your fine crew who were very hard working and considerate of my wishes. You will be the only company we call in the future."
Rob T.
"Thank you and your crew VERY much for your tree trim and removal at my house. I recognize that you went above and beyond what was required by the estimate and I sincerely appreciate that. I also sincerely appreciate how your crew took down the stump and the red pine that was removed."
Lynn B.
FILL OUT THE FORM BELOW AND ONE OF OUR REPRESENTATIVES WILL CONTACT YOU.